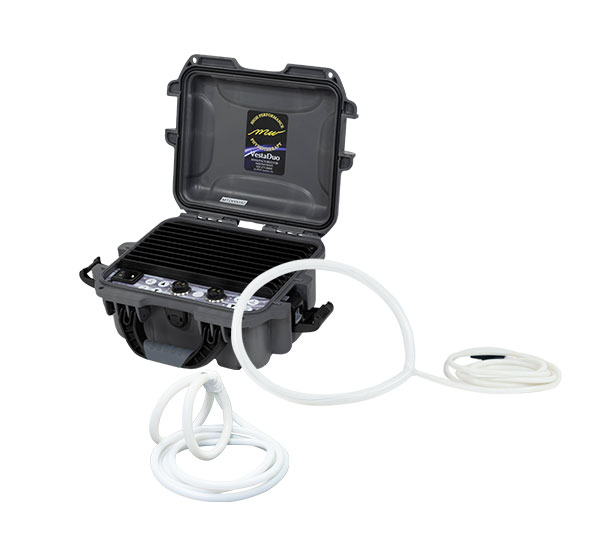 "This machine allows me to treat my family and friends when they are in pain. My husband is a mechanic and now asks for treatments on his arms and back. He is the type that does not like going to the doctor and rarely takes medication for his pain. He is typically very skeptical about trying new things, but after his first treatment, he is a believer! He now has me treat him for any minor and major ache and pain. For him to validate the healing properties of the Magna Wave is a huge thing!"
– Misty Taylor CMWP
$12,950
Easily adjustable strength perfect for in the office or on-the-go use.
Pain Relief. Faster Recovery. Improved Wellbeing.
Magna Wave has completely changed my life. I suffered for years from debilitating pain due to reoccurring pancreatitis. The doctors tried everything and Magna Wave is the only thing that has really worked to help the pain. I am now able to work full time and consistently compete in rodeos. I continue to be amazed each time I treat a new person.
I was in a wreck and got a crushed L2 Vertebrae. The doctors and I chose not to do surgery and to wait 6 weeks to see if the bone would heal without putting hardware in my back, risking paralysis. I immediately started Magnawaving 3-4 times a week on my back and after one week of Magna Wave PEMF treatments, I was able to go off ALL of my pain medication!! The doctors could not believe how fast the bone was healing. After 6 weeks I was told no surgery would be needed.
Chloe, my young daughter, has Cerebral Palsy and she struggled with pain and stiffness. She would never walk down our hill without holding someone's hand. After 2 Magna Wave Treatments, she is able to walk down that hill by herself…. I'm blown away with MAGNA WAVE PEMF!!!