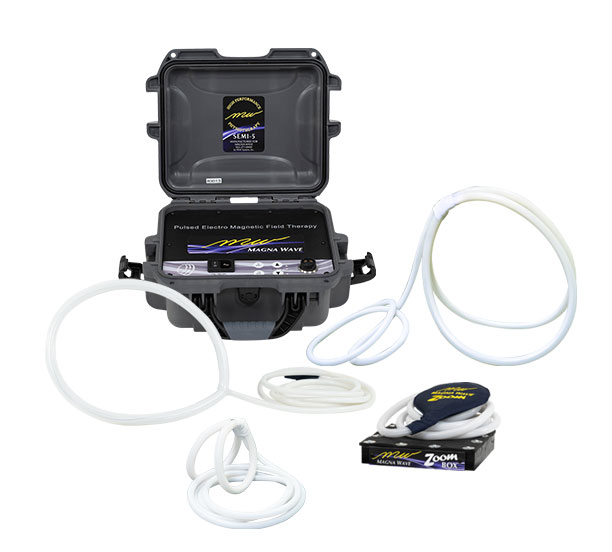 "I love my Semi because it not only helped my heart horse come back from her ligament injury and able to complete again, but it helped save the life of a horse that I'm not sure would have made it otherwise. Being able to see that horse still enjoying his life every day gives me such great joy and makes me proud of what I do as a Magna Wave practitioner. I love seeing the smiles on my clients' faces as they tell me how much better their horses are doing after treatments. That's the reason I do what I do and why I love my Semi."
– Thea Legare, CMWP
$9,950
Lightweight, Easy to Use, Digital
Horses & Livestock Love Magna Wave
Pain Relief. Faster Recovery. Improved Wellbeing.
I can't even begin to explain what Magna Wave has done for me! Initially, I looked into PEMF therapy for my personal barrel horse who was suffering from a torn tendon, and had been lame for over 2 years! We tried EVERYTHING and had no luck. After only a month of daily treatments, he was the soundest he had been in over two years, and I was able to ride him again!
Thumper has very severe and very painful arthritis in his knees. Since July he has been getting regular Magna Wave treatments. Because of his knees being so painful he could not go down and roll, just hurt too much for him… but today he was in his glory rolling around!!! I've seen the amazing results of Magna Wave on Thumper and I am so happy that I decided to schedule a Magna Wave PEMF treatment for him. These treatments have been a miracle and I can't even describe the happiness I feel seeing him without pain!
I gladly and wholeheartedly testify that the Magna Wave PEMF machine works and have seen awesome results with my horse, Cruiser! He was having some hoof issues last year that caused soreness all over, but especially in his right shoulder! After receiving PEMF treatments with the Magna Wave he was visibly more comfortable and it reflected in his warming up more calmly and running faster times! Thank you for a wonderful and helpful product!