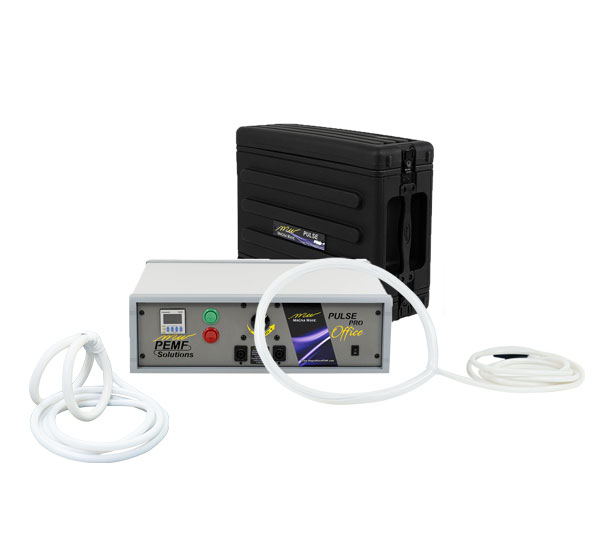 *Choose from Office or Traveler Case.

"The Pulse Pro is the perfect machine for anyone looking for a durable, lightweight, user-friendly, and easily transportable PEMF device. Versatility is the core of the Pulse Pro with the ability to use the machine in multiple positions (on its side, bottom or legs) making it truly accessible to whatever space limitations are present. The machine itself is incredibly user-friendly. The pre-set variable timer and intensity levels make it ideal for any client, big or small, human or animal. With the splitter attachment, the Pulse Pro is truly adaptable by providing an option to run two attachments at the same time, saving the client time and offering a well-rounded service. The Pulse Pro is an affordable, versatile and trusted option for anyone interested in becoming a certified PEMF practitioner. "
– Jodi Beniuk CMWP
$12,950
Superior Performance-to-Price Value
Pain Relief. Faster Recovery. Improved Wellbeing.
Magna Wave has completely changed my life. I suffered for years from debilitating pain due to reoccurring pancreatitis. The doctors tried everything and Magna Wave is the only thing that has really worked to help the pain. I am now able to work full time and consistently compete in rodeos. I continue to be amazed each time I treat a new person.
I was in a wreck and got a crushed L2 Vertebrae. The doctors and I chose not to do surgery and to wait 6 weeks to see if the bone would heal without putting hardware in my back, risking paralysis. I immediately started Magnawaving 3-4 times a week on my back and after one week of Magna Wave PEMF treatments, I was able to go off ALL of my pain medication!! The doctors could not believe how fast the bone was healing. After 6 weeks I was told no surgery would be needed.
Chloe, my young daughter, has Cerebral Palsy and she struggled with pain and stiffness. She would never walk down our hill without holding someone's hand. After 2 Magna Wave Treatments, she is able to walk down that hill by herself…. I'm blown away with MAGNA WAVE PEMF!!!