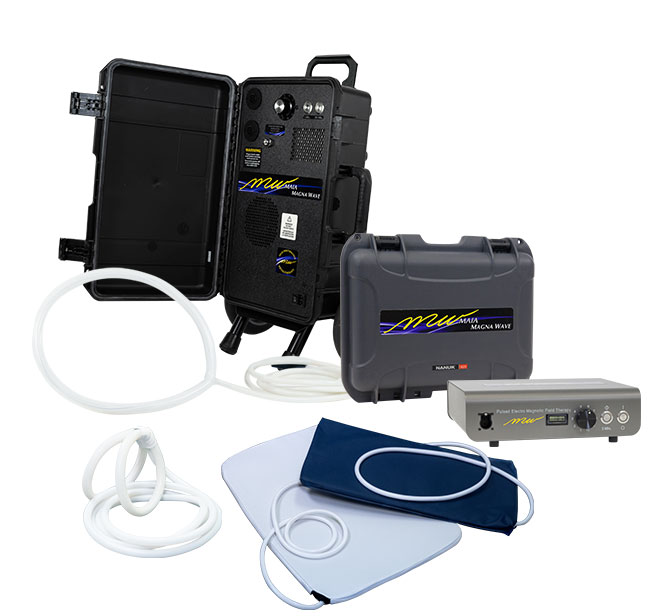 *Choose from Office, Traveler, or All-Terrain Case.

"I love my Magna Wave Maia! I love its range in intensity settings. I can go super low for the most sensitive individual or use the highest setting for treating hooves successfully. There is never an issue finding a comfortable and effective setting, no matter the client or species. The short treatment times allow me to help more people/animals in a smaller window of time, so that is a huge benefit! You cannot go wrong with this machine, I highly recommend it!"
– Jennifer Wiggins CMWP
$21,950
Short treatment times. Great for people, horses, and pets.
Pain Relief. Faster Recovery. Improved Wellbeing.
Magna Wave has completely changed my life. I suffered for years from debilitating pain due to reoccurring pancreatitis. The doctors tried everything and Magna Wave is the only thing that has really worked to help the pain. I am now able to work full time and consistently compete in rodeos. I continue to be amazed each time I treat a new person.
I was in a wreck and got a crushed L2 Vertebrae. The doctors and I chose not to do surgery and to wait 6 weeks to see if the bone would heal without putting hardware in my back, risking paralysis. I immediately started Magnawaving 3-4 times a week on my back and after one week of Magna Wave PEMF treatments, I was able to go off ALL of my pain medication!! The doctors could not believe how fast the bone was healing. After 6 weeks I was told no surgery would be needed.
Chloe, my young daughter, has Cerebral Palsy and she struggled with pain and stiffness. She would never walk down our hill without holding someone's hand. After 2 Magna Wave Treatments, she is able to walk down that hill by herself…. I'm blown away with MAGNA WAVE PEMF!!!