Magna Wave & The Kentucky Derby
We think it's safe to say that the 145th Kentucky Derby is a race that will go down in history books! With Magna Wave located in the hometown of all the action, we eagerly anticipate Derby each year. Anyone familiar with the Kentucky Derby knows that "the most exciting two minutes in sports" calls for a two-week-long celebration leading up to the first Saturday of May. From steamboat races to lavish galas, Louisville is the place to be during Derby time.
Magna Wave was at the forefront of all the action on the backside providing PEMF sessions to horses and jockeys – and cheering on Win Win Win, our sponsored Derby horse! Here's a recap of the Kentucky Derby and Magna Wave's experience.
Magna Wave PEMF's Derby Week Experience
The Magna Wave family kicked off Derby week arriving bright and early on Wednesday, May 1st. Our exciting four day long stretch at the Downs included numerous Magna Wave PEMF sessions for jockeys and horses. We were greeted with patrons sipping Mint Juleps and Pink Lilies as we admired the many epic Derby outfits. If you've ever been to the Kentucky Derby, you know it's never complete without over-the-top hats, beautiful dresses, and sleek suits. We spent most of our first day helping jockeys prep for their big race with a PEMF session.
On Thursday and Friday, we spent time getting Win Win Win in winning shape for the Derby with PEMF sessions. Along with Win Win Win, ten trainers with 2019 Kentucky Derby horses use Magna Wave PEMF as a regular part of their horses training and race preparation. In fact, Magna Wave PEMF has been used by 5 of the last 7 Kentucky Derby winners! PEMF sessions help relieve a horse's pain from sore muscles and joints, as well as restore healthy cell function for a faster recovery. PEMF is a crucial modality to incorporate before such a monumental event in a horse's career like the Kentucky Derby.
Our Derby week celebration didn't stop at the track. After a productive day at Churchill Downs on Wednesday, the Magna Wave family attended Jocktails, an event that supports the Permanently Disabled Jockey Fund. The next night, Magna Wave proudly sponsored two lanes at the Bowl for the Roses event to support Kids Cancer Alliance, the Backside Learning Center, and Jamon Brown Foundation.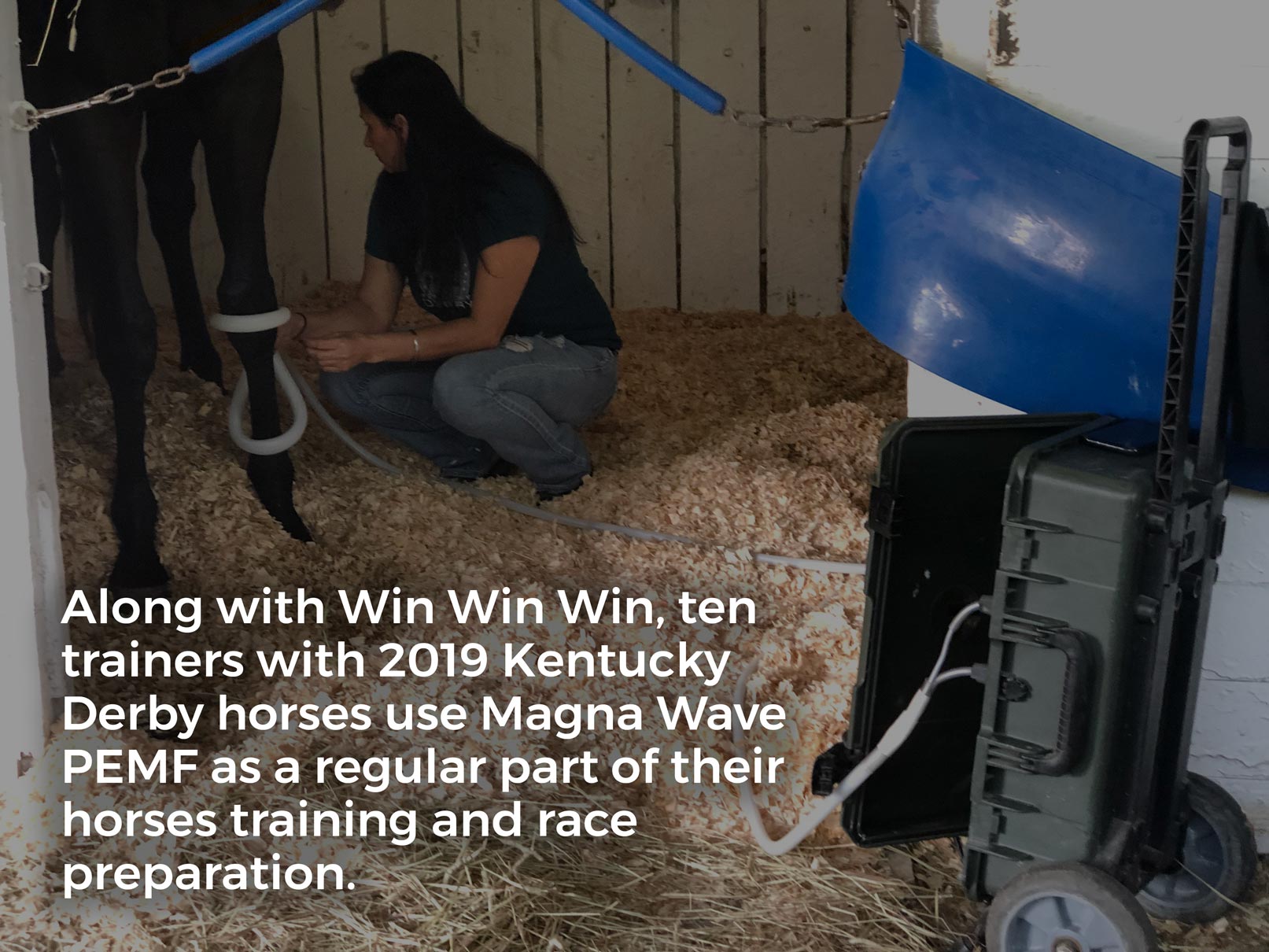 145th Kentucky Derby Race Results
The day we waited for all year was finally here – Derby Day. With all-day rain in the forecast, we knew we were in for a wet first Saturday of May. The field included 20 3-year-old Thoroughbred horses, who earned their spot based on their performance in the 2019 Road to the Kentucky Derby. The 2019 purse was $3 million, making it the largest winning amount in Kentucky Derby history.
For the first time in history, the first horse to cross the finish line didn't take home the Garland of Roses. Although Maximum Security was the first to finish, he was disqualified for a race infraction. The victory was ultimately awarded to 65-1 longshot, Country House. According to Sporting News, "Country House's win is the second largest upset in Kentucky Derby History, behind only Donerail's 1913 victory with 91-1 odds."

Magna Wave's Sponsored Horse: Win Win Win
With 15-1 odds, Magna Wave's sponsored horse, Win Win Win, came in 9th place in the Kentucky Derby! We proudly watched from the sidelines as a jockey, Julian Pimentel, sported red polka dots on white with black sleeves with Magna Wave under his jockey silks.
Win Win Win's record included three wins, two seconds, and a third in six starts, giving him 50 Derby points. The horse set a track record for seven furlongs at Tampa Bay Downs on January 19th. He then hit the board with a third in the Tampa Bay Derby and a second in the Toyota Blue Grass Stakes, earning entry into the field.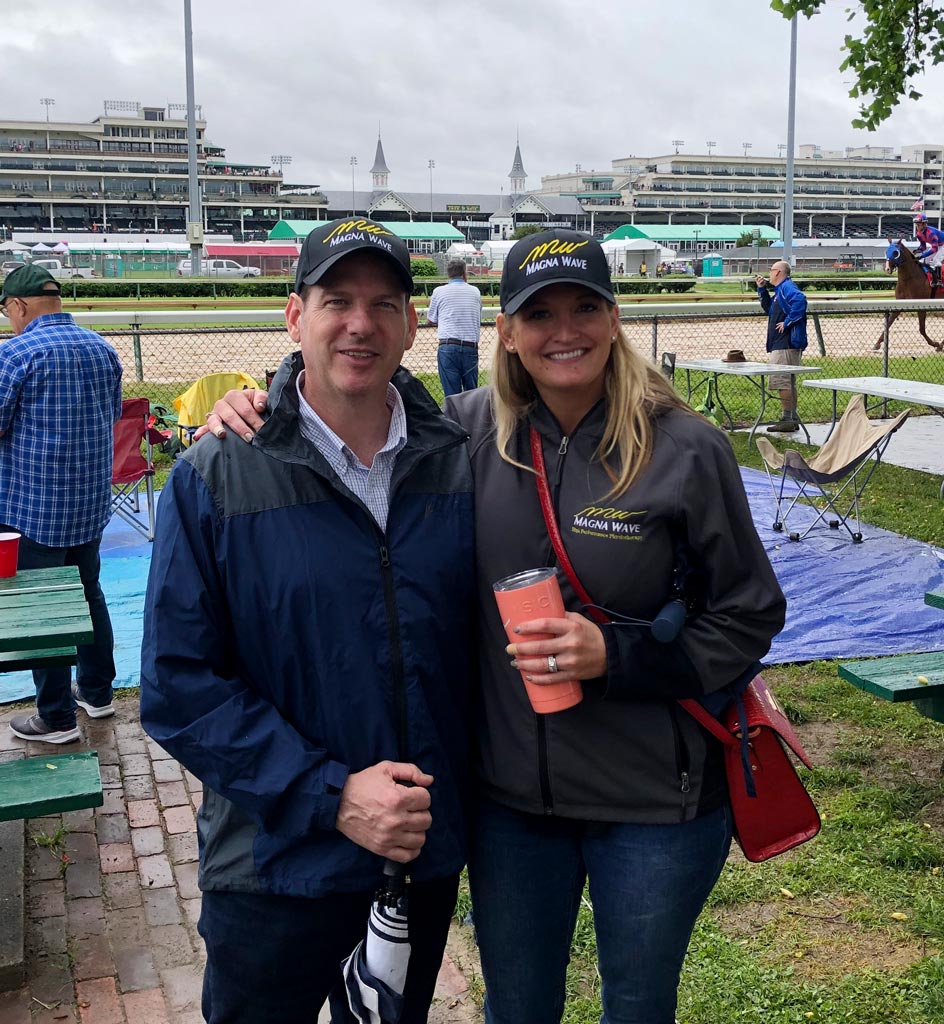 Sources
https://www.boston.com/sports/horse-racing/2019/05/16/maximum-security-owners-lawsuit-kentucky-derby
https://www.kentuckyderby.com/history/kentucky-derby-history