Rent to Own or Finance a Machine
Though we offer a variety of Magna Wave machines, the Maxx and Semi Equine Bundle are specially designed for equestrian use. All rental payments are applied toward the purchase price of the machine.
THE MAGNA WAVE ADVANTAGE.
Magnawaving helps the horse by improving cellular function and metabolism.
Relieves Equine Arthritis

Faster Recovery From Performance Stress

Helps Soft Tissue Injuries and Muscle Soreness

Hoof Abscess and Stone Bruises
Thoroughbred Trainers, Owners, Riders, Stable Owners, Equine Veterinarians And Trail Riding Enthusiasts Use The Treatment of Champions!
Magna Wave machines are powerful and easy to use. Horse vets, stable owners and thoroughbred trainers purchase a machine for the onsite portability; as well as, the benefits of treating the horse. Performance and show horse trainers find Magnawaving before an event helps calm the horse and get them ready to go out into the arena. After an intense competition, race or show, Magnawaving helps relieve stress on muscles, tendons and ligaments for a quicker recovery.
Routine sessions help to maintain the balance in cellular metabolism and keep the horse active and healthy. Magnawaving sessions typically cost between $75-$125 for horses. Many people purchase or rent a machine to save money and have access to therapy whenever and as often as needed. We offer complete training and certification to give you the tools for a successful equine therapy regimen.
IMMEDIATE RESULTS.
Magna Wave's machines are high-powered which is more effective than low voltage PEMF machines. We have pioneered special attachments tailored to the unique needs of our equine friends.  The Magna Wave Zoom Hoof Bundle targets hard to reach areas with pinpoint accuracy. Break up knots in soft tissue and penetrate deeper with the Zoom. Coupled with the Hoof Box you can successfully treat abscesses, quarter cracks, laminitis and more without the use of drugs, steroids or risk of harmful side effects.
Magna Wave machines are portable and easy to use. Treatments can range from 10 to 30 minutes depending on how many areas are being treated. Used by 5 out of the last 7 Kentucky Derby Winners, Magnawaving helps relieve horse's pain from sore muscles, and joints, and restores healthy cell function for a faster recovery.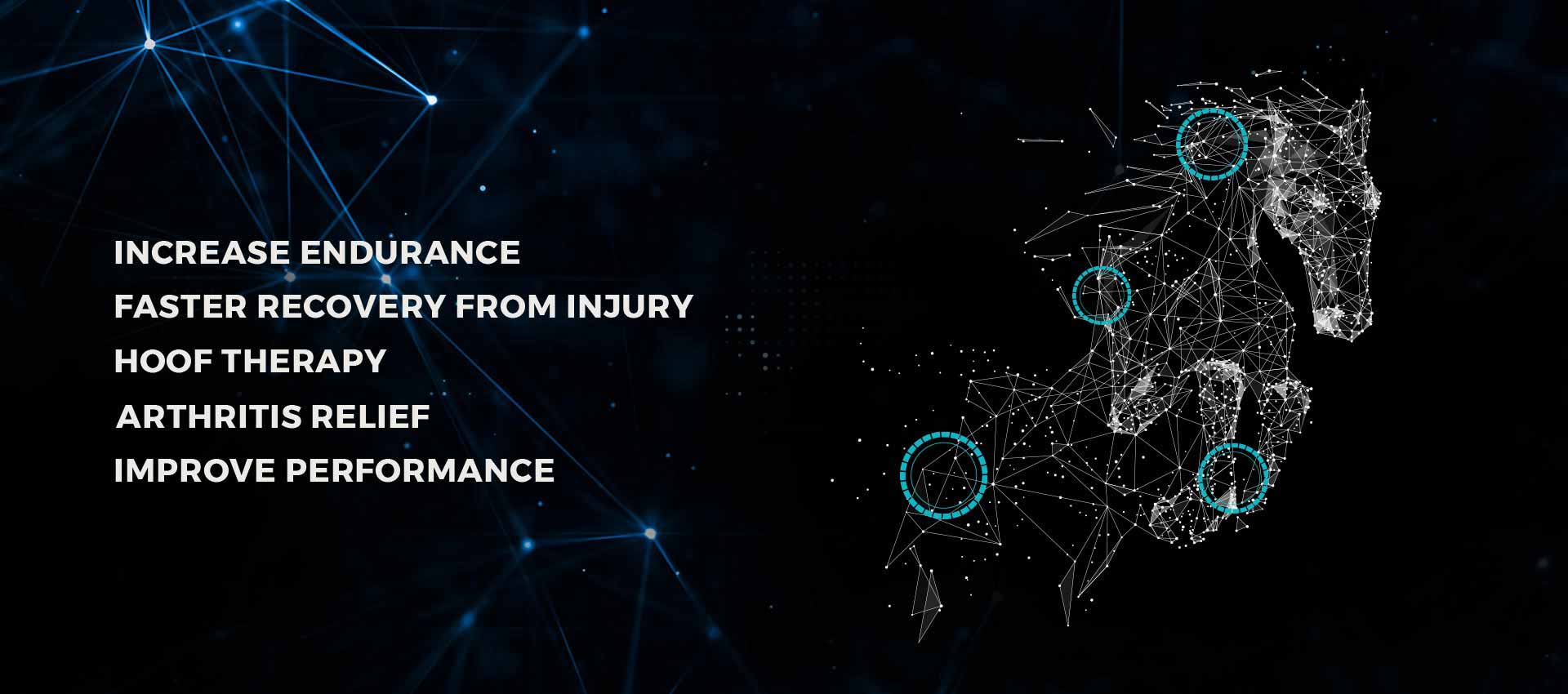 How Magna Wave Works
Magna Wave works by creating a pulsed electromagnetic field through the body to improve cellular function and health at the molecular level. Without the use of drugs, Magnawaving reduces inflammation, relieves pain, and improves the immune system naturally, without side effects.