PEMF Therapy Has Many Benefits
Research has been done on PEMF Therapy in Europe over the past 40 years. It has shown that Neurological, Physiological and Psychological fields all benefit by the use of PEMF Therapy. Pulsed Electromagnetic Field or PEMF therapy has been used throughout Europe for many different health reasons.
PEMF therapy results are seen in animals and humans. Many veterinarians use PEMF therapy to treat race or show horses before and after competitions. World class athletes use PEMF therapy to quickly ease soreness after a competition.
PEMF Therapy is a Drug-Free Alternative to:
PEMF Therapy Increases Endurance
PEMF Therapy Enhances Performance
PEMF Therapy Offers Faster Recovery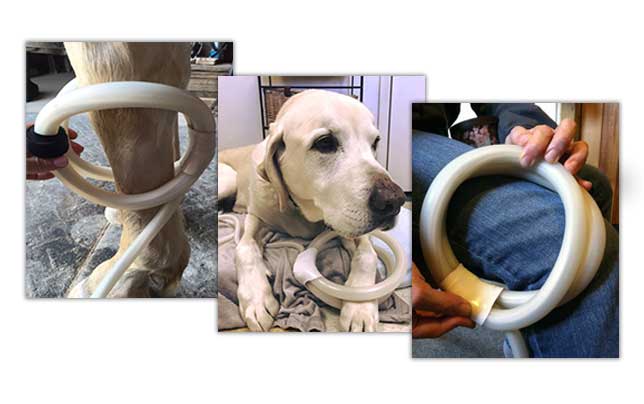 PEMF Therapy has Positive Effects on Healing
The positive effects of PEMF therapy were well established by the mid-1900's. PEMF therapy was used commercially in the mid-1970's with a focus on cellular regeneration. PEMF therapy was used to reduce pain and in the healing of non-union bone fractures. NASA has tested the effects of PEMF therapy on bone loss and muscular degeneration encountered by astronauts on long space missions. Read more about the NASA PEMF Therapy studies here.
The Benefits of PEMF Therapy are:
PEMF Therapy helps support the healing of damaged and inflamed tissues.
PEMF Therapy helps reduce pain, swelling, and inflammation.
PEMF Therapy accelerates repair of bone and soft tissue.
PEMF Therapy increases circulation and tissue oxygenation.
PEMF Therapy aids in supporting general muscular and nervous system health and function.
PEMF Therapy helps balance the immune system.
PEMF Therapy stimulates the body's natural healing process.
PEMF Therapy Re-energizes Damaged Cells
Electromagnetic energy controls cell chemistry. Disruption of this energy causes impaired cell metabolism. PEMF therapy helps reduce the risk of cell dysfunction. PEMF therapy helps to restore cells to their normal healthy state and boosts cell metabolism. Blood cells are regenerated, circulation is improved, and oxygen capacity is increased with PEMF therapy. PEMF therapy supports cellular energy and addresses impaired chemistry of cells to improve health. The immune system becomes healthier allowing the body to heal itself. PEMF therapy helps improve the quality of life by allowing your body to function as it was designed to do. PEMF therapy offers patients remarkable results by activating healing on a cellular level. Learn more about how PEMF Therapy is good for health maintenance here.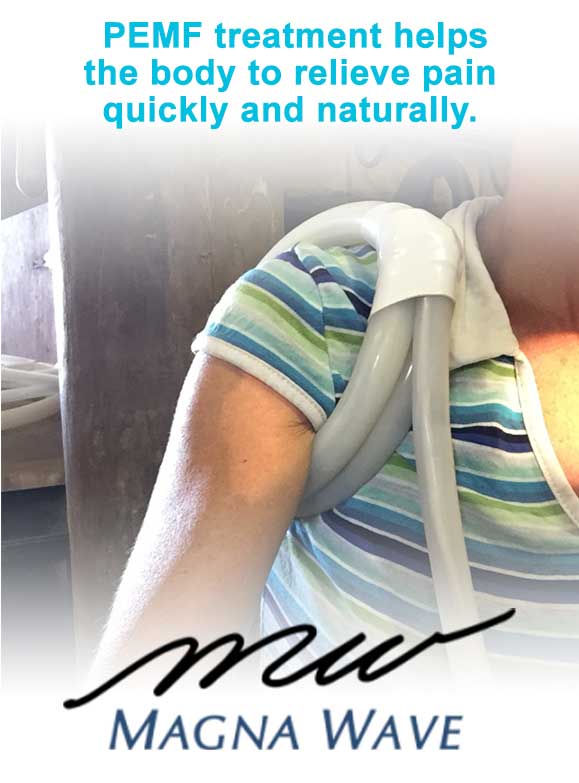 PEMF Therapy is Safe and Easy to Use
PEMF therapy is administered through clothing while comfortably seated or lying down. PEMF therapy is non-invasive. A 10-30 minute PEMF therapy session can be relaxing and is not painful. With PEMF therapy pain fades and a soothing wave of relief rolls over. Patients feel mild muscle contractions and a tingling sensation with PEMF therapy. There are no adverse side effects to PEMF therapy. Medication doesn't always address the underlying cause of a problem and can have serious side effects. PEMF therapy can be a good alternative to conventional medicine and procedures.
Ask your doctor about using PEMF therapy with other modalities.
PEMF therapy should not be used if you have a cardiac pacemaker.
PEMF Therapy for Pain & Disease:
PEMF Therapy is Safe
PEMF Therapy is Not Painful
PEMF Therapy uses No Drugs
PEMF Therapy has No Side Effects
Many patients using PEMF therapy have reported an improvement in health conditions that were not related to their original health problem. Additional body mechanisms like sleep, vitality, mood, and gut function have improved with PEMF therapy.
"In 2003 I was involved in a catastrophe auto accident and it nearly took my life. I fractured close to every bone in my body with the exception of my spine. My neck was broken and hip where twisted and fracture in multiple areas. I was in the Shepherd Center in Atlanta, GA for almost a year. The physicians and there team never thought I would walk again but I have regain the ability to walk but for years I had to take so many pain pills and injections leaving me with low energy and a dependence for medications/prescriptions but now I have Magna Wave and I'm prescription free. I get treatment twice month and the arthritis and chronic pain is gone. Magna Wave allows to work, travel and be a active person again. Thank You Angela and Magna Wave!" -Blaine Burdette
Best Results Found with Professional, Clinical Strength PEMF Therapy Devices
PEMF therapy devices produce different levels of magnetic energy. PEMF therapy may be more than 10,000 times as powerful than that of the Earth's magnetic field. PEMF therapy devices may vary by different frequency, waveform, strength, and types of stimulators. Therapy session times may vary depending on the type and strength of the device. Magna Wave can help you find the Best PEMF Therapy Device to suit your treatment. PEMF therapy can be used with other modalities for treatment. Many find that high power low-frequency PEMF therapy offers the best results and shorter treatment duration. Read more about the different PEMF therapy devices available at Magna Wave.
Call Magna Wave today to find the perfect PEMF Therapy Device!