PEMF Therapy Side Effects
Pulsed Electromagnetic or PEMF therapy has been used for decades for many different health applications. Many people fear sending an electrical charge through their body could cause other side effects. Fortunately, only about 5% of patients experience minor PEMF therapy side effects. This is usually in the form of mild discomfort at the beginning of treatment and can be resolved by changing the frequency used. This mild PEMF therapy side effect is ascribed to the enhanced metabolic activities at the cellular level.
PEMF Therapy Improves Cellular Health
PEMF therapy works on a cellular level to improve cell and tissue repair. Circulation is improved, blood oxygenation, blood pressure and heart rate is affected and there is an increase in the rate of nutrient absorption. PEMF therapy helps to detox and boost your metabolism. These changes affect the body in many positive ways. Sometimes the body needs time to adjust to these changes. Magna Wave PEMF therapy is one of the safest ways to give your cells extra energy to overcome health issues. PEMF therapy side effects are rare but some to be aware of are;
PEMF Therapy Side Effects on Blood Circulation – PEMF therapy increases blood circulation. This is beneficial but could increase oxidative stress in individuals lacking proper antioxidants in their diet. It could be necessary to take an antioxidant supplement. It is a good habit to drink plenty of water before and after PEMF therapy to maintain optimal cellular hydration. Dehydration could cause a PEMF therapy side effect of feeling light-headed.
PEMF Therapy Side Effects on Pain – Improved circulation and stimulated neurons may increase pain temporarily due to the improved connections and circulation between nerves. If there is pain as a PEMF therapy side effect, it often is an indication of another underlying problem.
PEMF Therapy Side Effects on Blood Pressure – PEMF therapy can lower blood pressure and decrease the heart rate which benefits the body. Elderly patients could be at risk because their body is too fragile to adjust to the sudden changes taking place with PEMF therapy. Until the body is able to stabilize, PEMF therapy side effects could be harmful to bedridden patients or someone with compensatory vascular flexes or taking medication for lowering blood pressure.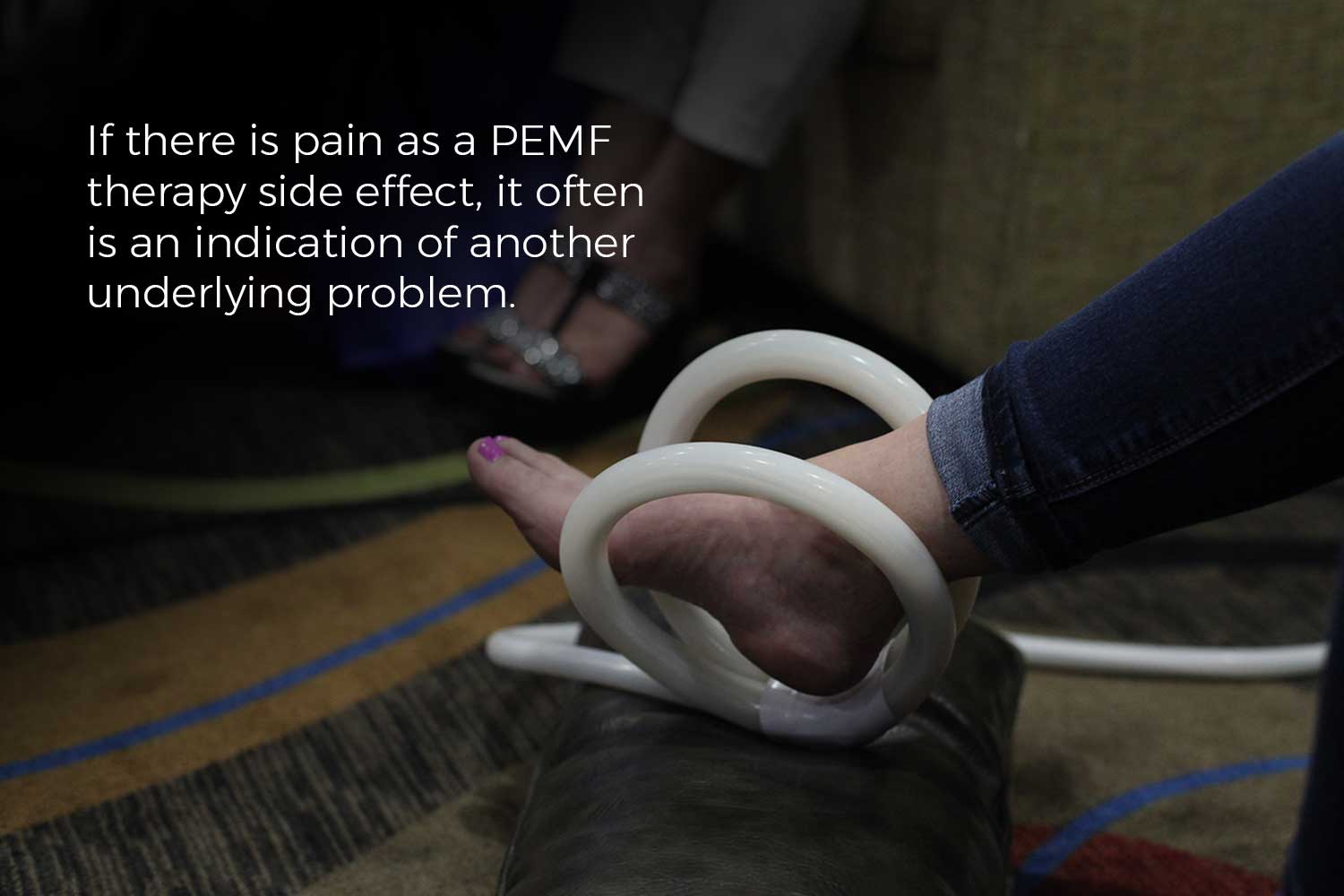 PEMF Therapy Side Effects on Nutrients and Medications – A PEMF therapy side effect could be that the absorption rate of nutrients and medicines is altered. Blood sugar can decrease various degrees following PEMF therapy. Patients using anticoagulant medications should practice caution when undergoing PEMF therapy as blood flow increases. A PEMF therapy side effect may affect blood clotting reactions when the platelets adhesiveness decreases and fibrinolysis increases.
PEMF therapy side effects can significantly diminish or halt completely as the body adapts to treatment. Your health, medications being taken, antioxidant levels and other factors can contribute to PEMF therapy side effects.

PEMF Therapy Side Effects Can Affect People Sensitive to Magnetic Fields
Some people show sensitivity to magnetic fields and could experience PEMF therapy side effects. These could include increased fatigue levels, increase in pain, weakness, dizziness, prickly sensations and palpitations. These people can be considered to have systemic hemodynamic or autonomic disability. This can result from chronic infections or environmental toxicities.
PEMF Therapy is Effective
PEMF therapy offers reliable results with immediate and progressive relief in a strong majority of cases. Traditional medicine often uses drugs that mask symptoms and doesn't resolve the cause of a health problem. This has many people looking for alternative therapies. PEMF therapy works immediately with rare adverse effects. PEMF therapy side effects are usually temporary and tend to resolve within hours or at most days.

Safety Precautions to Avoid PEMF Therapy Side Effects
PEMF therapy is used by physicians and holistic health practitioners, chiropractors, and veterinarians throughout the world, creating dramatic improvements in their patient's quality of life with little or no side effects. There are some safety precautions to be aware of to help avoid PEMF therapy side effects. These include;
Do not use PEMF therapy if you have an implanted electronic device such as a pacemaker, cochlear hearing device or other battery operated or magnetically charged device.
Do not use PEMF therapy if you are pregnant. It has not been tested for PEMF therapy side effects on pregnancy.
Do not use PEMF therapy if you have active bleeding, hemorrhaging or during heavy menstruation. PEMF therapy side effects could be an increased blood flow.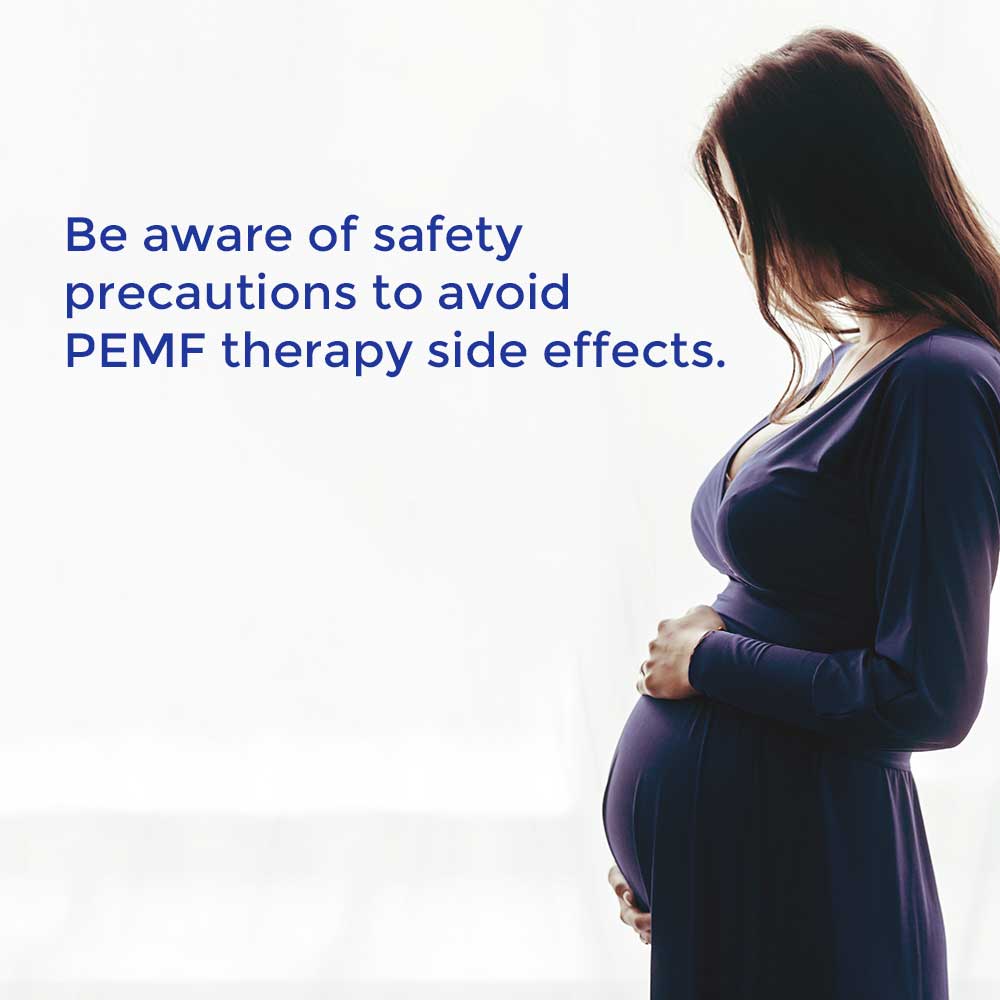 Magna Wave Can Answer Concerns about PEMF Therapy Side Effects
For over 10 years Magna Wave has been the premier USA manufacturer and distributor of FDA tested PEMF therapy devices. Magna Wave continues to improve their knowledge of PEMF therapy and is currently involved in several clinical studies. Magna Wave trains and certifies practitioners in the safe and effective use of their PEMF therapy devices.
Feel Safe When Using a Magna Wave PEMF Device Administered by a Certified Professional
Sources
https://www.webmd.com/pain-management/magnetic-field-therapy-overview
https://www.well-beingsecrets.com/pemf-side-effects/
http://electromeds.com/pemf-education/adverse-reactions-pemf/
http://pemflive.com/response/view-reports/adverse/
http://cnmwellness.com/using-pulsed-electro-magnetic-fields-pemf-as-cellular-exercise-benefits-of-the-mg-33/
http://smithridge.com/magnawave-pemf-therapy/
https://www.encompasshealthandwellness.org/pemf
http://thrivewellnesskingston.com/p-e-m-f-pulsed-electromagnetic-therapy/