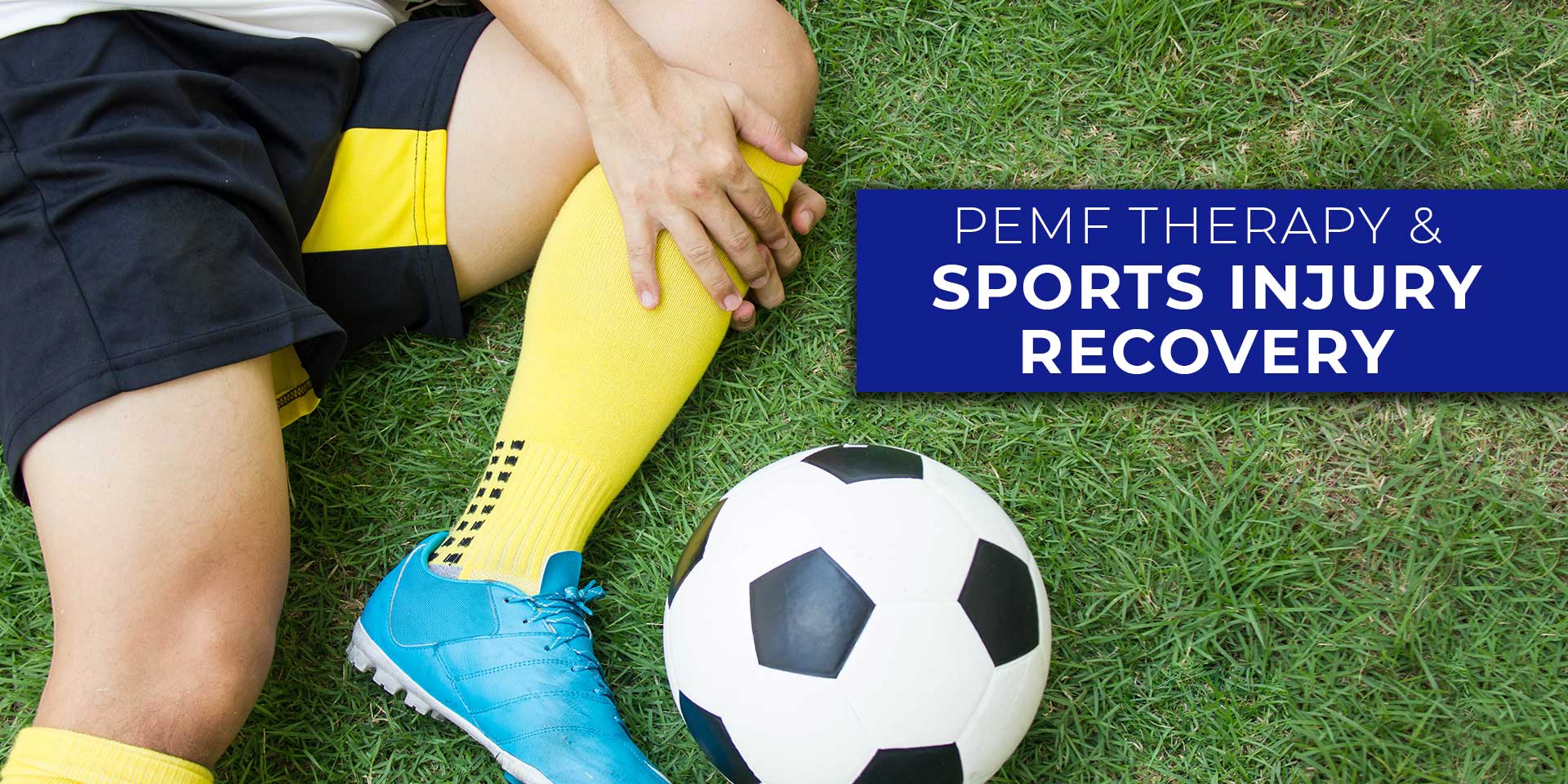 PEMF Therapy and Sports Injury Recovery
PEMF therapy and sports injury recovery have gone together for many decades. PEMF therapy has often been found at both equine and human sports competitions helping with sports injury recovery. Athletes will push their body to the limit in order to perform at the maximum. This can lead to wear and tear on the body or to injury. Magna Wave PEMF therapy allows athletes to minimize their recovery time after competitions. Many world champions and Olympic medalists rely on PEMF therapy as a legal and safe way to enhance their sports injury recovery process.
PEMF Therapy and Sports Injury Recovery from Muscle Strains & Sprains
Sprains and strains are among the most common sports injuries. Quick and effective PEMF therapy and sports injury recovery of muscle strains is important because of the long-term negative effects of repeated injuries. Minor strains are more susceptible to subsequent major strains. Rehabilitation is necessary after a sprain to prevent the decrease of muscle mass (atrophy) and the loss of range of motion. Pain relief medications offer short-term benefits and could lead to further long-term damage. Weight lifter Rich uses Magna Wave PEMF therapy and sports injury recovery on a torn bicep. PEMF therapy has a natural analgesic effect, helping to relieve pain by reducing inflammation and swelling, relaxing muscles, and decreasing irritability of the nerves. PEMF therapy and sports injury recovery is helped by the removal of lactic acid. Lactic acid build-up causes muscle soreness. Muscle strains are also helped by PEMF therapy and sports injury recovery by the replenishment of ATP. Depleted ATP levels caused by strenuous workouts are a primary cause of muscle pain and weakness. PEMF therapy helps your body increase the production of ATP. This gives the athlete the ability to have their muscles work at a superior capacity. Muscles work harder, longer and recover faster with Magna Wave PEMF therapy.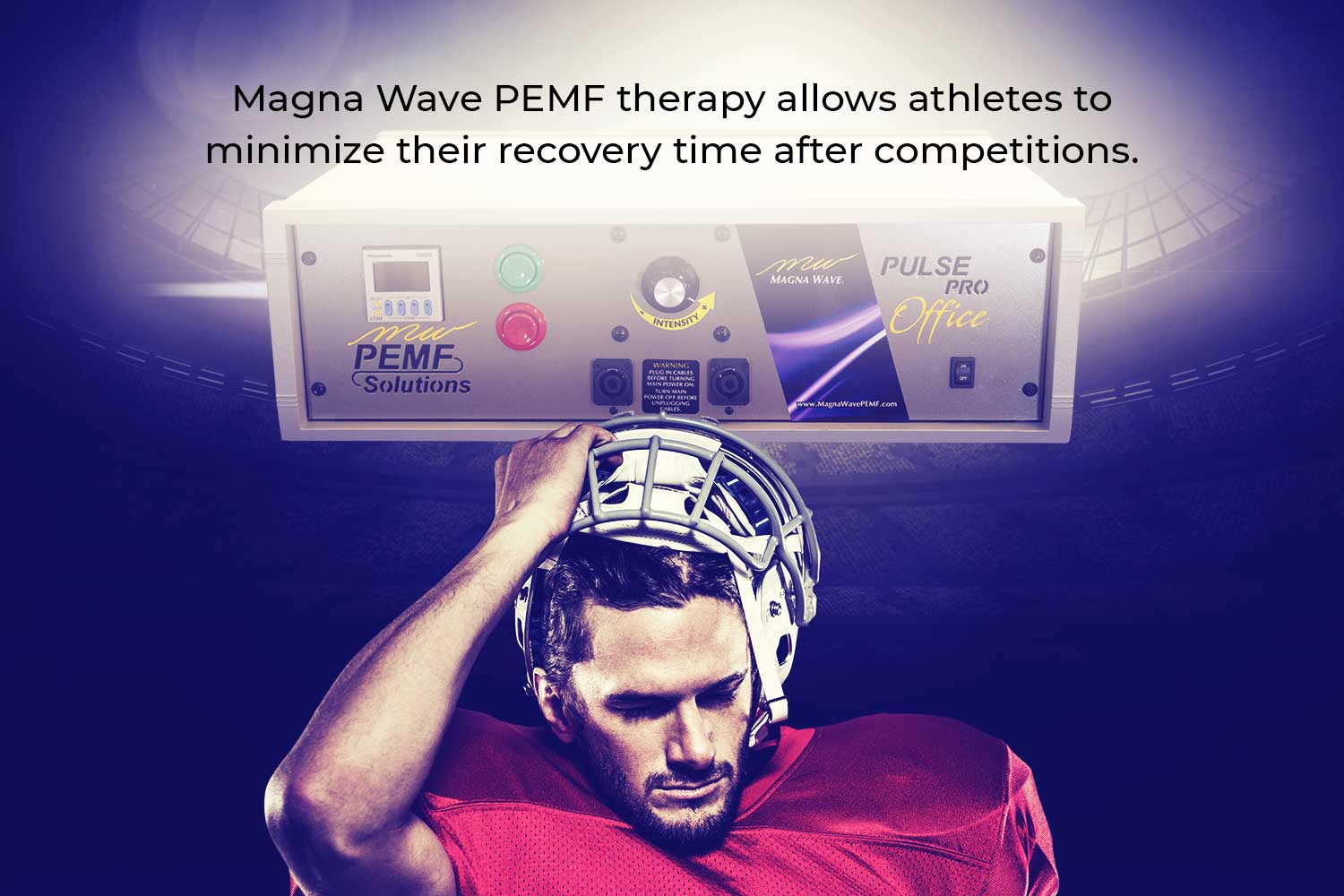 PEMF Therapy and Sports Injury Recovery for Swollen Tissues
Swelling of the tissues is created by exercise itself. This can be a big disadvantage to athletes. Swelling of muscles and tissue also occur in all injuries. Many athletes try to relieve pain through anti-inflammatory medicines. These offer temporary relief but can also have adverse long-term effects. PEMF therapy reduces swelling which promotes quicker healing. PEMF therapy is ideal for athletes as it boosts the body's own healing process by increasing blood flow and stimulating the body to repair damaged tissue. Improved blood circulation will make bruises disappear faster. Magna Wave PEMF therapy allows your body to heal in a healthier natural way without any adverse side effects.

Ham String – Injuries are a result of strained or pulled muscle at the back of thigh. This injury is often found in sports with a lot of running with sudden stops.
Back Pain – over-activity leads to pain and soreness in the lower back due to muscles and ligaments being overstretched.
Sacroiliac Joints and Tailbone – The sacroiliac joints are located at the lower part of the back and are responsible for the twisting movements of the legs. These joints and the tailbone can be injured by falls onto the backside.
Knee Injuries – Knee ligaments are often injured during sports. Sports involving a lot of jumping and landing, running and stopping and changes in direction are prone to ACL injuries. MCL injuries are caused by a direct blow to the outside of the knee. A patellar tendon tear is caused by a direct fall or landing after a jump.
Elbow Injuries – Tennis elbow is pain and inflammation of the tendons on the outer side of the elbow. This is caused by a repetitive arm motion as found in racket sports. Golfer's elbow is a similar condition found on the inner side of the elbow.
Tendonitis and Bursitis – Tendonitis is caused by repeated stress on tendons. Bursitis often accompanies tendonitis is caused by an overused bursa.
How Does PEMF Therapy and Sports Injury Recovery Work?
PEMF therapy works at a cellular level and has been found to improve blood circulation, relieve pain & lower inflammation, increase range of motion, improve bone & soft tissue healing and stimulate nerve cells. PEMF therapy and sports injury recovery is achieved by sending electromagnetic pulses through injured tissue. Electromagnetic pulses stimulate cellular repair by increasing the uptake of oxygen and nutrients into tissue. The chemical reaction in every cell is stimulated by the pulsed electromagnetic fields. Cells are given the energy they need to work more efficiently. This enables the body to self-heal as the cells become energized to function better and heal damages. Muscles are able to work harder, longer and recover quickly. This results in the body performing better and the athlete having more energy, endurance and stamina on the field. PEMF therapy and sports injury recovery is safe for humans, equines, and small pets.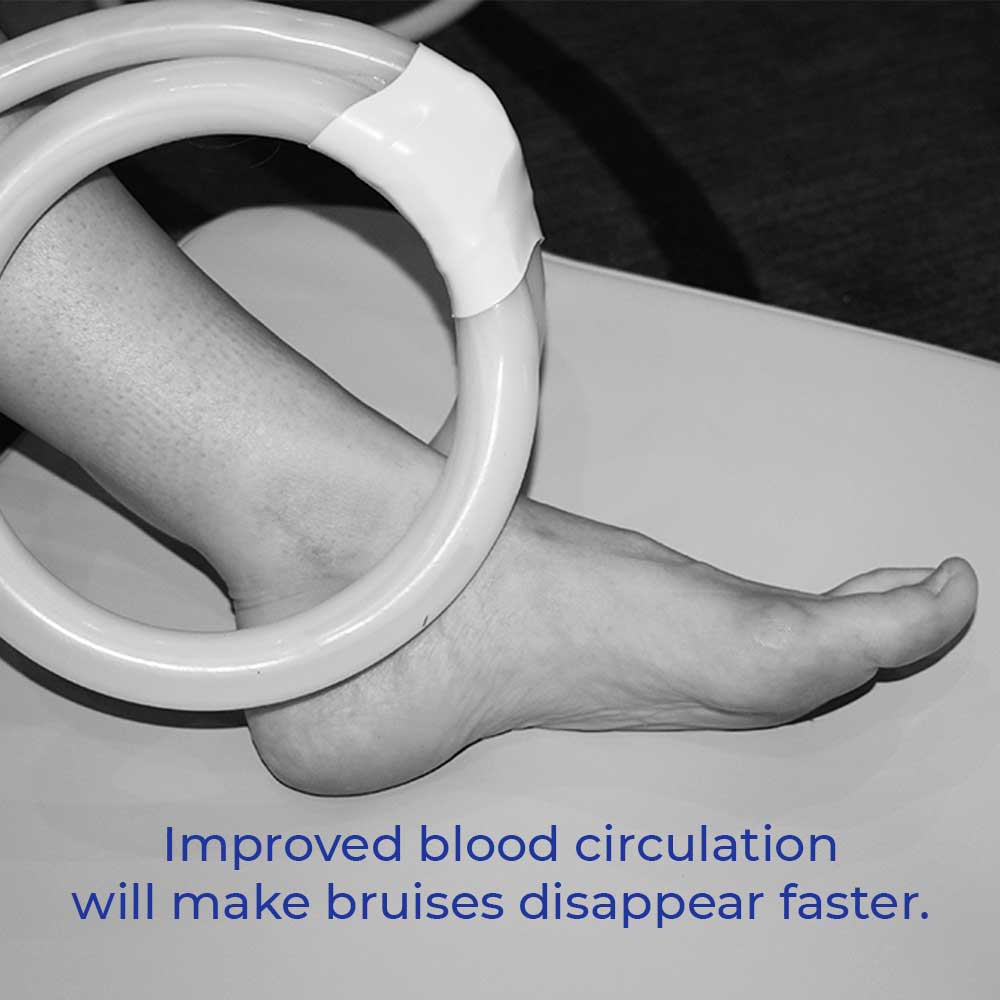 Circulation
Energy
Cell HydrationLean Muscle Mass
Range of Motion and Flexibility
Stamina
Strength
Endurance
Neuromuscular Response
These athletes find decreases in pain, stiffness, swelling/inflammation, spasms, and contusions/bruises after using PEMF therapy and sports injury recovery.

Magna Wave PEMF Therapy Devices for Sports Injury
Magna Wave offers PEMF therapy devices for professional, amateur or "weekend warriors" to help these athletes to be healthier, stronger and perform better. PEMF therapy devices can be used before and after workouts, tryouts, and at any level of competition for better performance. Coaches and trainers should have a Magna Wave PEMF therapy device available at the gym or on the playing field. Magna Wave has many PEMF therapy devices to choose from that are suitable for the practitioner's office, gym, barn, or for the individual. Let the professionals at Magna Wave help you find the right PEMF therapy device for your needs.
Magna Wave is a proud sponsor of our local professional soccer team, The Louisville City Soccer Club!
Talk to a Product Specialist about Athlete Options