PEMF for Knee Pain Relief
Want to try Magna Wave PEMF?? YOU CAN! 100% of ALL of our HIGH POWER PEMF machine rentals are deducted from the purchase price of the machine. DON'T LOSE MONEY RENTING! Our QUALITY, Our TECHNOLOGY, Our PRICES and OUR WARRANTY can NOT be BEAT!
Magna Wave PEMF Knee Device Helps Alleviate Pain
The knee is a complex joint and is easily injured. Common knee injuries include strains and tears of muscles, tendons, and ligaments. Knee pain can also be caused by bursitis, fractures, and arthritis. Magna Wave PEMF knee device helps to alleviate the pain of these conditions.
Athletes are prone to injuries of their knee ligaments. The meniscus is cartilage that protects the joint and acts as a shock absorber. The meniscus can often tear during sports. As knee cartilage weakens with age, older people often experience a tear by accidentally twisting the knee. Using a PEMF knee device can help elevate pain associated with athletic injuries.
Magna Wave's PEMF Knee Device has successfully treated:
Arthritis
Swelling
Postoperative Pain
Chronic Pain
A PEMF knee device therapy stimulates bone growth in fractures and relieves pain associated with connective and soft tissue injuries. Magna Wave's PEMF knee device is a high energy coil for fast pain relief and treatment.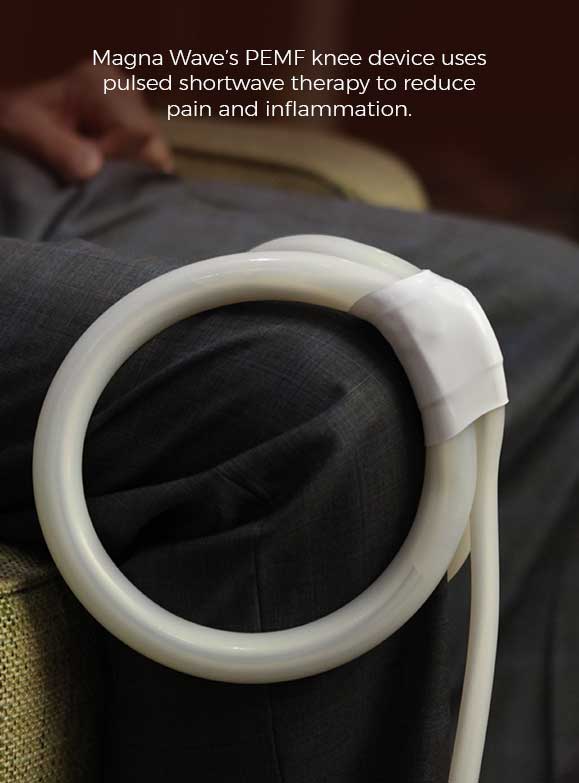 PEMF Knee Device Offers Drug-Free Relief
Magna Wave's PEMF knee device uses pulsed shortwave therapy to reduce pain and inflammation. The PEMF knee device metabolically stimulates injured cells and pushes them through the inflammation and pain phase of healing. Traditional medications can have a risk of hazardous side effects. A PEMF knee device does not have any adverse side effects.
Magna Wave's PEMF Knee Device Offers:
PEMF knee device technology reduces swelling and relieves pain
PEMF knee device is non-invasive, drug-free therapy
PEMF knee device works deep in the knee at the source
PEMF knee device has clinically proven results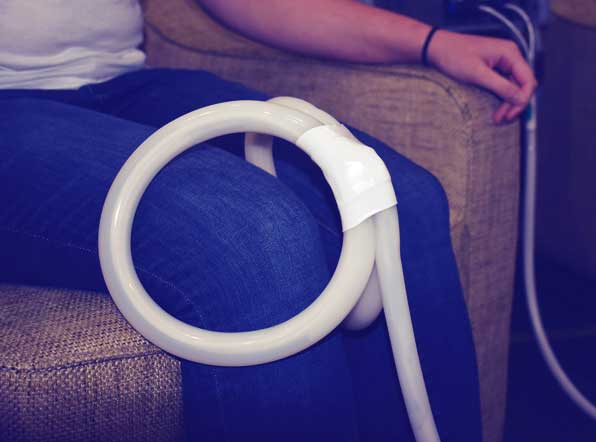 "The Magna Wave has helped me personally. I had a meniscus tear in my knee and was having extreme pain. I was preparing for my first time back in the show ring after 20 years in showmanship. I was Magnawaved the night before my class. I had moderate – severe pain before treatment & no pain after treatment. I could not have made it in my class with the Magna Wave. All of the horses love it. It's amazing. So glad we have one at the farm." -Heather Reams Williams
Osteoarthritis (OA) affects about 40 million people in the US.
Knee OA is the most common form of joint disease and the major cause of pain and physical disability among middle-aged and elderly people. Treatment strategies aim to alleviate joint pain, reduce physical disability and limit the progression of joint damage. Magna Wave's PEMF knee device therapy may help.
Traditional treatments focus on medications or procedures. Those treatments have drawbacks and potential long-term side effects. They also offer limited effectiveness. PEMF knee devices are being used more frequently to improve OA symptoms. Research shows promising benefits from PEMF knee devices by emphasizing stimulation of tissue repair.
Research on PEMF Knee Devices by Magna Wave
Research has found positive effects of PEMF knee devices on cartilage cells and tissue cells. The PEMF knee device helps increase cell growth. Results are usually seen after a few sessions using a PEMF knee device. A PEMF knee device therapy should be continued to prevent progression of arthritis. PEMF knee device can help avoid procedures and possible joint replacement, but Arthritis treatment can be a lifelong commitment.
Sports Injuries and the PEMF Knee Device
Knee ligaments are often injured during sports. Many times the ACL or MCL ligaments or Meniscus are damaged. Symptoms of these injuries include pain, swelling, instability, and restricted movement. A PEMF knee device can help the pain and inflammation associated with these injuries. A PEMF knee device activates the normal healing process stimulating growth and repair of tissue. An athlete can heal from injuries quicker using a PEMF knee device.
The PEMF knee device helps athletes to maximize function and reduce the risk of injury. A PEMF knee device helps the body to optimize its functionality thus producing better performance. The stimulation helps muscles work harder, longer and recover faster.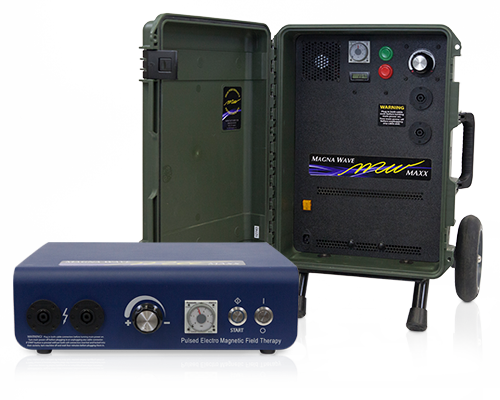 Magna Wave Offers the Best PEMF Knee Devices
Magna Wave has been in the business of PEMF therapy for over 10 years. There are several Magna Wave PEMF devices to choose from. A good PEMF knee device is the EZY System Controller and Coil. This PEMF knee device uses a coil with low voltage and low-frequency therapy. This PEMF knee device can treat multiple areas of the body. It is portable and has a hand-held controller.
You might also want to consider the Semi PEMF knee device. This PEMF knee device is high voltage-low frequency and offers two strengths. These are just two of the options available from Magna Wave PEMF.
Magna Wave PEMF knee devices are made in the United States and are third party safety tested.
Magna Wave PEMF knee devices come with a warranty and training is provided.
Call Magna Wave Today to find the right PEMF Knee Device for You!