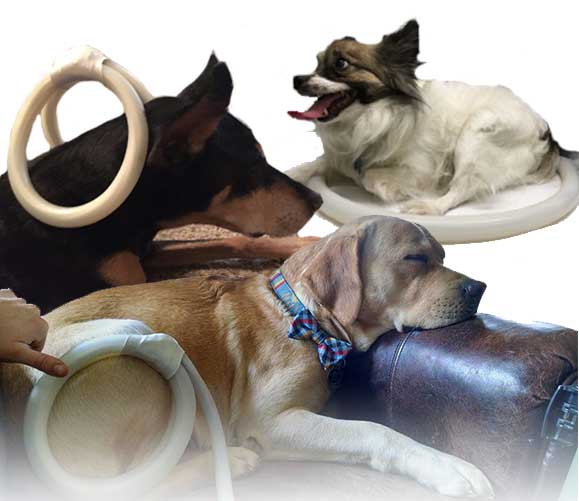 PEMF for dogs can help ease the pain in your furry friend
If you pet is in pain, it can make you feel helpless. PEMF for dogs can help ease the pain. PEMF (Pulsed Electromagnetic Field) works on a cellular level to benefit your pet for a variety of conditions.
Studies have found PEMF for dogs to be safe to use with little or no side effects. This cannot be said for pain medication. Pain medication can help your pet but also may have very harmful side effects. It can also be difficult to be sure your dog is receiving the proper dose of medication. PEMF for dogs is easy to apply and the dog enjoys the session. Many veterinarians prescribe PEMF for dogs when other therapy options are not available or have been ineffective. PEMF for dogs helps improve lameness and pain without the use of anti-inflammatory drugs. PEMF for dogs helps with arthritis and the difficulty getting up, climbing stairs, etc. that this condition can cause in your dog.
PEMF for Dogs Helps Circulation
PEMF for dogs works by increasing the amount of nitric oxide in the circulatory system. Nitric oxide supports the healing of tissues and bones. PEMF for dogs also helps to increase circulation. This helps provide nutrients and oxygen to the area being healed. With PEMF for dogs helping to support this natural healing process, the duration of pain is shortened.
PEMF for dogs penetrates the entire volume of the animal body, stimulating every individual cell, thus producing the results. By increasing the metabolism and energy in the individual cells of the body, PEMF for dogs helps the animal to dramatically improve their healing. PEMF for dogs also benefits as a health maintenance treatment. PEMF for dogs helps to optimize the level of health.

PEMF for Dogs as Therapy For Various Conditions
PEMF for Dogs is effective as an adjunctive or an alternative therapy in many different conditions. PEMF for dogs is helpful in treating various illnesses as it stimulates and rejuvenates the ailing cells. An experienced veterinarian will determine an accurate diagnosis and select the best treatment. After receiving your veterinarian's diagnosis, ask if PEMF for dogs could help. Some of the conditions that PEMF for dogs might be used for are:
• Depression
• Asthma
• Arthritis
• Post-surgical Healing
• Orthopedic injuries
• Immune System
• Allergies
PEMF for dogs is often used for musculoskeletal issues such as arthritis. PEMF for dogs is also used in fracture healing. PEMF for dogs can be applied through a plaster cast. Non-union fractures are lessened or non-existent with PEMF for dogs. There is usually a significant reduction in the healing period after using PEMF for dogs. Read the many positive Magna Wave PEMF for dogs reviews.
PEMF for Dogs is Pleasurable
Dogs are naturally attracted to PEMF therapy and seem to instinctively know that it is good for them. Dogs stay calm and relaxed throughout the process, due to PEMF for dogs non-invasive nature. When humans are being treated with PEMF, their dog may try to sit with them to receive the benefits too.

PEMF for Dogs Devices
PEMF for dogs uses devices that generate a pulsating electromagnetic field. Coils or loops are placed on the dog for treatment. This pulsating magnetic field has a high biological effectiveness; PEMF for dogs can improve the cellular functions considerably.
Advances have been made in devices for PEMF for dogs treatment. PEMF for dogs devices help produce great healing effects. View the different PEMF for dogs devices available, and contact Magna Wave PEMF if you have questions or need assistance.
PEMF for dogs is a great tool for veterinarians and dog owners. Discuss with your veterinarian the amount of frequency you should use with your PEMF for dogs to help rule out any complications. Treatments usually last for about 30 minutes. It depends on the condition being treated as to how many treatments may be needed.
PEMF for dogs is an effective and safe way to keep our pets healthy and safe.
Call Magna Wave today to learn more about PEMF for Dogs!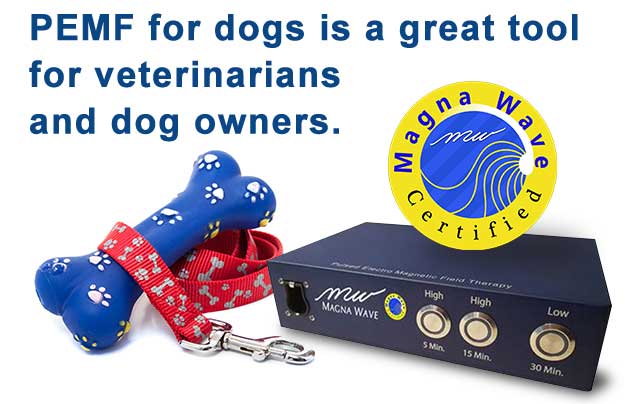 Improvements in technology have resulted in expansion into machines for smaller animals, making PEMF for dogs possible. Many veterinary practices now offer magnetic therapy for dogs.
Ask your veterinarian about PEMF for dogs and how it can help your pet feel better!