PEMF Coils Used for Centuries
PEMF coils have been used for centuries to improve health and healing. PEMF coils (pulsed electromagnetic field) are delivery systems for inducing electrical current into tissue. The effects of this induced current from the PEMF coils are therapeutic. PEMF coils and their benefits have been researched for over 40 years in Europe and America.
Researchers believe the pulsed signal from PEMF coils nudges the body's chemistry to help the healing process proceed more rapidly. PEMF coils work to produce nitric oxide, a principal anti-inflammatory molecule. The PEMF coils pulse electromagnetic energy that penetrates tissue around the targeted area. This electromagnetic field causes a chemical cascade, which activates the Nitric Oxide cycle. This nitric oxide cycle created by the PEMF coils is a key molecule in healing for humans and animals.
PEMF Coils used for Centuries, Create Nitric Oxide to:
Reduce pain
Improve blood flow
Reduce Inflammation
Helps tissue regeneration
Speeds healing of skin, tendons, ligaments, bones
PEMF coils help to rebalance dysfunction in cells. PEMF coils send electromagnetic energy into cells to help restore the cell's metabolism. This results in better cellular health and function.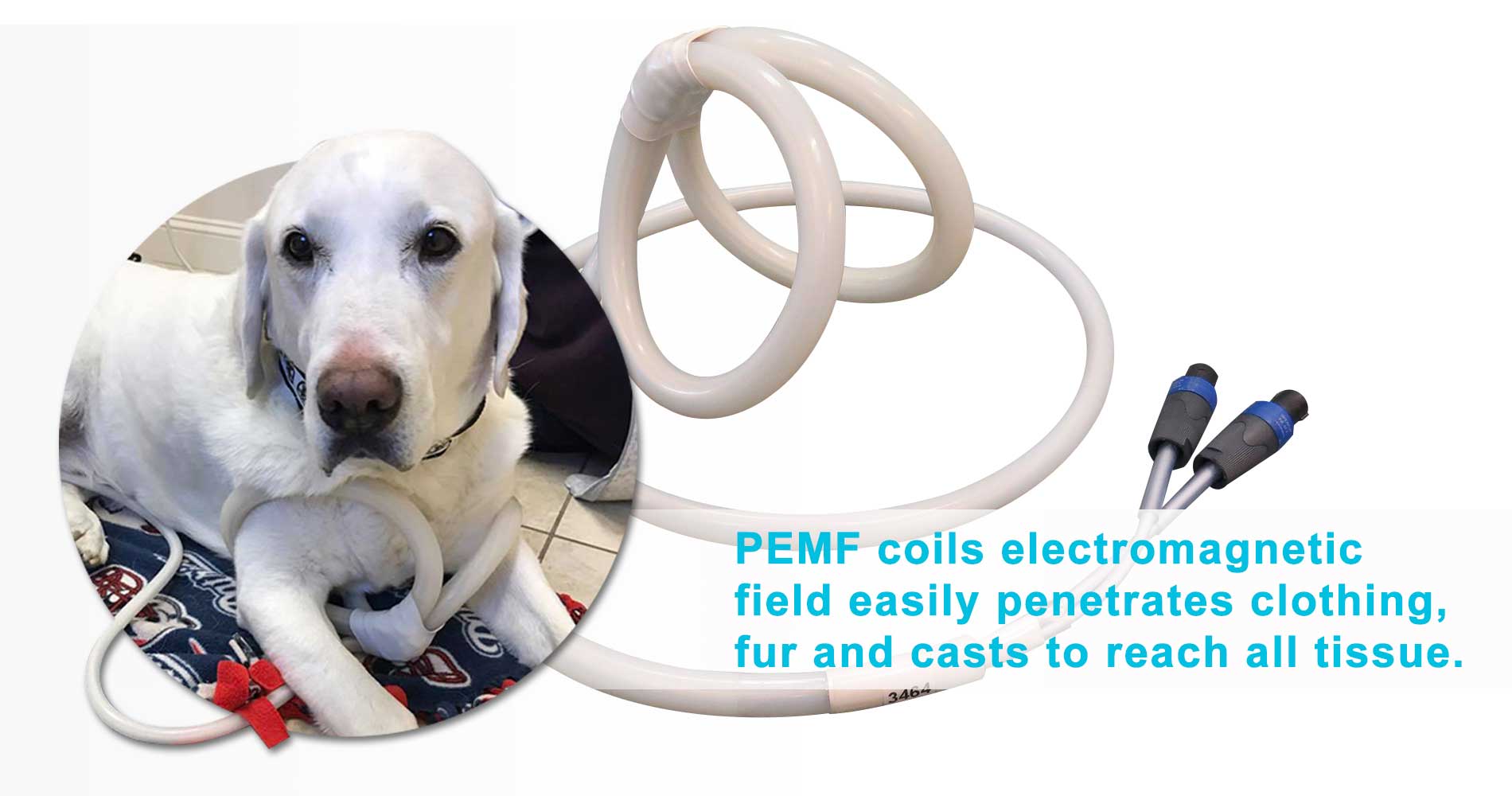 PEMF Coils can Decrease use of Pain Medications
Pain medications can be greatly reduced or stopped altogether after using a PEMF coils. This is especially beneficial to dogs which can be seriously injured by pain killers and cats that are even less tolerant and could develop kidney failure from even small doses. PEMF coils electromagnetic field easily penetrates clothing, fur and casts to reach all tissue. Animals with arthritis were soon running and playing after receiving electromagnetic therapy with PEMF coils.
PEMF Coils as a Primary or Adjunct Therapy
PEMF coils are the easiest and most effective way to deliver targeted therapy. PEMF coils create a pulsed electromagnetic field that evenly penetrates both soft and hard body tissue. PEMF coils can possibly remove the need for surgery. In some cases, PEMF coils work better as an adjunct to surgical intervention, physical therapy, and pharmaceutical pain management. PEMF coils are used without any side effects. Most patients find having therapy with PEMF coils to be relaxing.
Butterfly PEMF Coils Machines & Devices
Butterfly PEMF coils devices are also called Figure 8 coils. These PEMF coils receive their names from their shape. Butterfly PEMF coils are used on areas where deep and local electromagnetic stimulation is required. PEMF coils can be applied locally to obtain fast pain relief.
The Butterfly loop PEMF coil has two loops that can treat both sides of the knee, shoulders, ankle, etc. This PEMF coil is included with several of the Magna Wave devices. The Butterfly loop PEMF coil comes in two sizes, one for humans and one for equines.
Magna Wave offers several PEMF Coils in different configurations.
Besides the Butterfly PEMF Coils, Magna Wave also offers the Large PEMF coil loop. This PEMF coil is great for treating larger areas, like the back or around a horses' neck. There is also a blanket with PEMF coils. This helps treat multiple areas. A frequency generator is used to energize the PEMF coils to create a pulsed electromagnetic field. See all of Magna Wave PEMF coils and devices here.