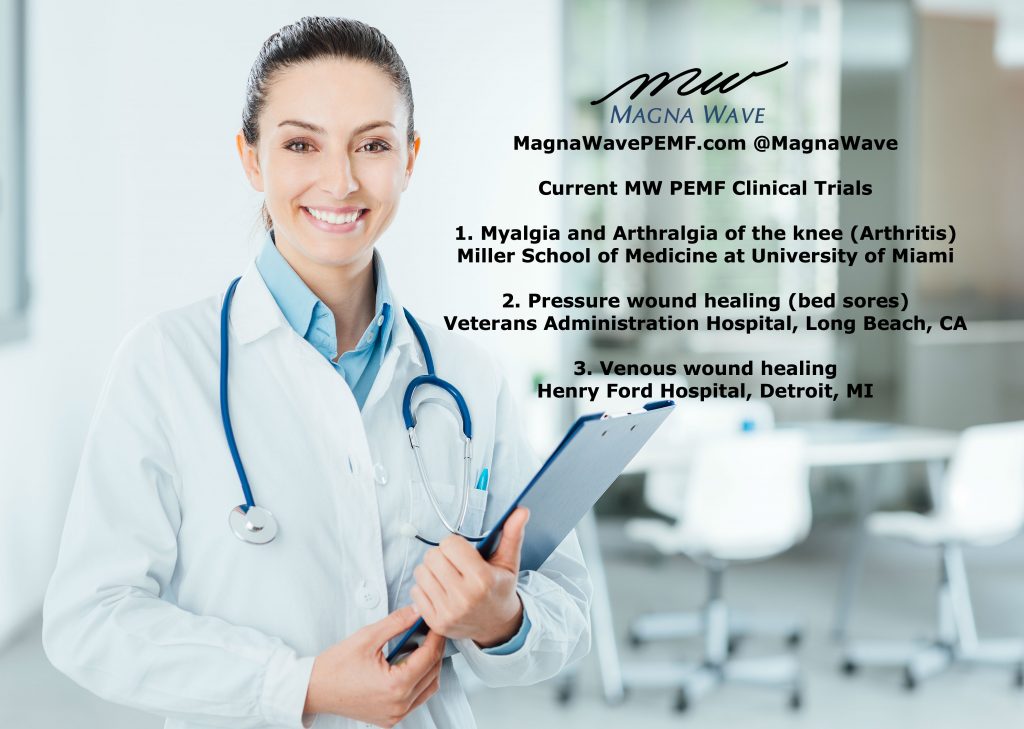 Clinical Trials, Approvals & Safety
Currently, our machines are engaged in three clinical trials in the United States. These studies are for final submission to the FDA for U.S. FDA clearance, and for adding human use approval in other countries.
To our knowledge, PEMF Systems Inc is the only manufacturer conducting clinical trials in the USA to demonstrate the health benefits and safety of our product. Magna Wave offers the longest most comprehensive warranty available, we also stand behind our PEMF equipment use and safety.
In other countries, PEMF has been a mainstream therapy for over 30 years. There have been over 2800 clinical trials completed using many different PEMF devices in many different countries, all with positive results. Our devices are CE (Human) approved in Europe and 127 other countries.
Magna Wave Inc is the only company in the U.S. offering full training and certification with third party testing for their PEMF devices. Training is included for humans, small animals, and equine use. All practitioners are required to accept and abide by the Magna Wave terms and conditions for acceptable practice and usage of the devices. Magna Wave is also working to obtain full accreditation for individual state licensure. We also work with Insurance companies who recognize our training and will insure our practitioners to treat humans, horse and small animals.
---
Our current PEMF clinical trials are:
1. Myalgia and Arthralgia of the knee (Arthritis)
Miller School of Medicine at University of Miami
2. Pressure wound healing (bed sores)
Veterans Administration Hospital, Long Beach, CA
3. Venous wound healing
Henry Ford Hospital, Detroit, MI
---
Magna Wave PEMF Cuba study
Published in the SPANISH JOURNAL OF OZONE THERAPY
About two years ago we were able to get a PEMF office unit into Cuba. The MD, who headed the study, is a neurosurgeon (Dr. Vivian Borroto) and an official of the Ozone Society there.
Worldwide clinical studies done in Cuba are extremely highly regarded. Two studies were completed, one for knee pain, and one for low back pain, which is completed publishing pending.
Study overview; 90 patients with knee pain "resistant to medical treatment" with more than five years of having the diagnosis of osteoarthritis of the knee and 60+ years of age was divided into three groups A. NSAIDS (normal pain meds) B. PEMF and ozone injections (the latest ozone therapy).
C. PEMF 10 sessions each only 6 minutes
Groups B and C had NO "side-affects", unlike group A, NSAIDS, which experienced gastrointestinal problems and elevated blood pressure.
"Study results for Magna Wave PEMF were found to decrease pain, stiffness and improve the quality of life in patients with knee osteoarthritis."
Pain reduction
A. NSAIDS Pills had a 31% reduction
B. Magna Wave PEMF and Ozone 69% reduction
C. Magna Wave PEMF alone 55% reduction
Joint stiffness
A.NSAIDS 26% improvement
B. Magna Wave PEMF Ozone 85% improvement
C. Magna Wave PEMF 56% improvement
The second PEMF study involved 160 patients with lumbar pain. Magna Wave PEMF use showed an 82% decrease in pain.
"I have a 13 yr old small breed dog (Yorkie) that we were going to put down and couldn't. Her problem was arthritic pain and yelped with any movement…Been giving her a dropper full every day or two. In 14 days her yelping stopped and she is actually wagging her tail and moving about on her own…Our deepest appreciation to these scientist who helped us. Amazing stuff!"
Dale Davis
"Love, love your product. I bought Dos Equis beer at Homeland Monday and had to show my ID to buy it. My 73rd birthday will be on August 22nd. I had to laugh at the cashier's expression when she checked my birth date. Sometimes life just gets really fun, but this is all very, very strange. I love it! More amazed each day."
Wanda Jenkins
"My husband and I have been taking C60Live since July. I have seen the following: the tremors from Parkinson's have almost completely disappeared, allowing me to return to playing piano at church…a cataract in my right eye, which has started to break up and recede. My muscle tone is almost improving, even without my going to the gym. We are so grateful for Dr. Danny Williams for telling us about this fine product!"
Christine Brown
Since adding Hydro Wave to our daily lives we never get sick, my sinus issues have disappeared. We love it as a wound spray and keep some in the barn and in the house.
Beth Hammelbacher
We used it as part of our daughter's recovery When she had a torn intercostal in her ribs from slipping rib syndrome. Between Magnawave, Hydro Wave and physical therapy she's healthy!
Julie Rector
Amazing for wound healing. My dog was clawed by a black bear… between Hydro Wave & Magna Wave, she healed without the use of any antibiotics or medication.
Mandy Jo Venable
I can't even begin to explain what Magna Wave has done for me! Initially, I looked into PEMF therapy for my personal barrel horse who was suffering from a torn tendon, and had been lame for over 2 years! We tried EVERYTHING and had no luck. After only a month of daily treatments, he was the soundest he had been in over two years, and I was able to ride him again!
Kendra Smith
Thumper has very severe and very painful arthritis in his knees. Since July he has been getting regular Magna Wave treatments. Because of his knees being so painful he could not go down and roll, just hurt too much for him… but today he was in his glory rolling around!!! I've seen the amazing results of Magna Wave on Thumper and I am so happy that I decided to schedule a Magna Wave PEMF treatment for him. These treatments have been a miracle and I can't even describe the happiness I feel seeing him without pain!
Lin Kahmer
I gladly and wholeheartedly testify that the Magna Wave PEMF machine works and have seen awesome results with my horse, Cruiser! He was having some hoof issues last year that caused soreness all over, but especially in his right shoulder! After receiving PEMF treatments with the Magna Wave he was visibly more comfortable and it reflected in his warming up more calmly and running faster times! Thank you for a wonderful and helpful product!
Faye Schuler
Magna Wave has completely changed my life. I suffered for years from debilitating pain due to reoccurring pancreatitis. The doctors tried everything and Magna Wave is the only thing that has really worked to help the pain. I am now able to work full time and consistently compete in rodeos. I continue to be amazed each time I treat a new person.
Barb Moore