Benefits of Magnawaving After Pregnancy
Magnawaving is known all over the world for providing powerful results related to physical and even mental health. Oftentimes, we talk about how such benefits can be generally applied to people, athletes, pets, and horses. But one much more specific set of benefits revolves around how women can utilize Magna Wave PEMF treatments during the post-pregnancy phase.
A study released in The Clinical Journal of Pain in 2017 evaluated the benefits received by women while using PEMF therapy to reduce postoperative pain, analgesic use, and wound healing after Cesarean sections (C-section). It found dramatic benefits were possible for women suffering from these issues when PEMF treatments occurred. These ground-breaking findings are important because they help prove something that Magna Wave practitioners have been stating for years.
Magna Wave's Vice President, Alane Paulley, is a mother of 2 children with another due any day now. She has experienced the first hand benefits of Magnawaving for decades but she also talks to hundreds of women who are undergoing unique physical and mental stress from pregnancy. Alane recommends that while Magna Wave should not be used by women during pregnancy, there are many important reasons why it should be utilized after giving birth.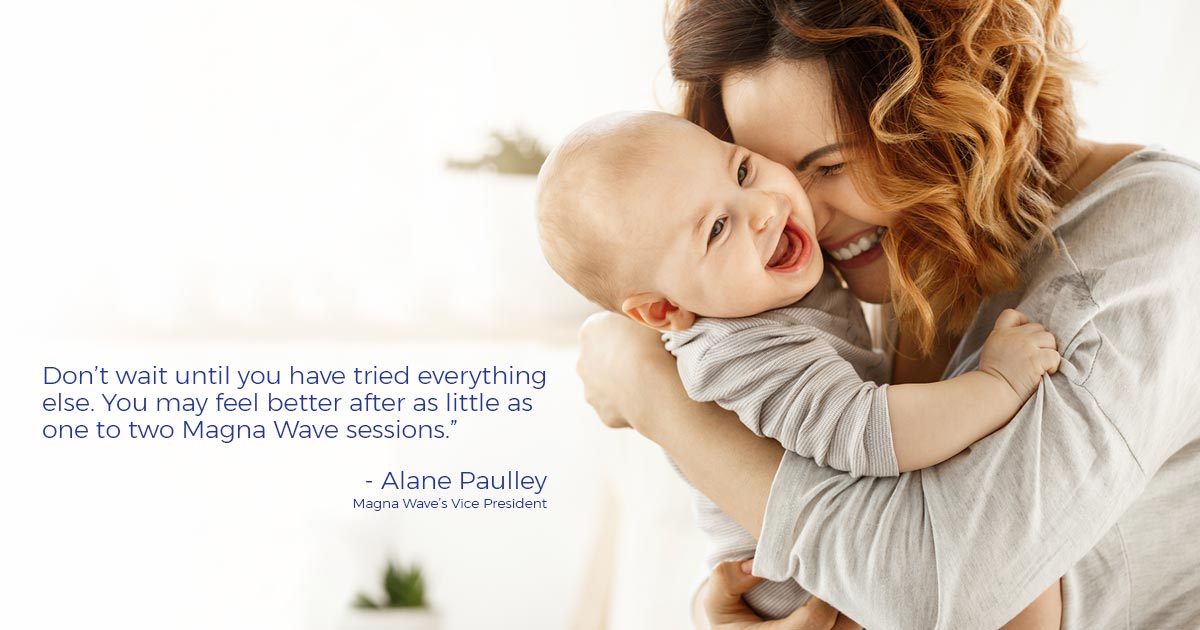 "After my first 2 children were born, I had to be placed on painkillers and life was miserable. I started Magnawaving and within 45 minutes my life had dramatically improved. It is important for women to have Magna Wave available as an option in case they experience similar pain."
Specifically, during the recovery phase Alane notes that Magnawaving can help women recover faster from tearing or C-section deliveries. This is good news considering that 1 in 3 births in the United States occur by C-section each year. Additionally, women sometimes retain a great deal of water after delivery. Sometimes this can also be painful and uncomfortable. Magnawaving helps with the circulation needed to reduce water retention in the body.
Another common issue dealt with after pregnancy is referred to as postpartum depression. Nearly 10-15% of women experience some form of this mood disorder. However, this is something that Magnawaving can also help with. In fact, Alane often reminds new mothers that PEMF treatment is FDA approved to treat depression. This is great news and even better, Magnawaving also helps with sleep. Even though the sleep you get may be limited the quality of that sleep can be improved.
Alane is looking forward to sharing specific details and answering questions related to these topics during her next Women's Health Webinar. She will continue hosting a series of free webinars to bring her knowledge and experience on issues such as this to more women. Her first webinar offered information about how endometriosis and pre-pregnancy issues can be affected by Magnawaving.
Alane's next webinar will take place a couple weeks after the birth of her new daughter. She will cover more in-depth topics related to those discussed in this blog. Viewers can click the link below to sign up for this webinar, which will be held on Wednesday, May 9th at 11:00 am. She encourages women to ask questions leading up to the event on Magna Wave's Facebook page so that she can answer these during the webinar. Women can receive more updates from Alane and learn about the upcoming webinars by following the official Magna Wave Facebook page.