After one week of Magna Wave PEMF treatments,  I was able to go off ALL of my pain medication!!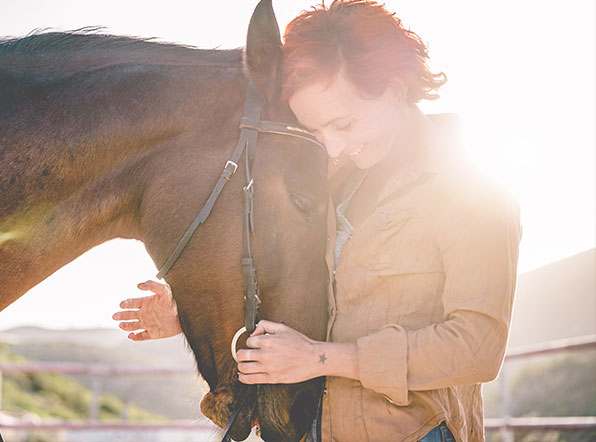 Shannon Pullifrone and her Magna Wave PEMF therapy have been a big part of my life for a few years now. She worked on many of my quarter horse reining horses, and helped me keep them in the best condition for competition!! In 2014 I was involved in a wreck with a 2-year-old colt that resulted in a crushed L2 Vertebrae. After spending 4 nights in the ICU I was sent home in a "turtle shell" and put on bed rest. The doctors and I chose not to do surgery and to wait 6 weeks to see if the bone would begin to heal without putting hardware in my back. I was told it was a risky decision and there was a chance I could still end up with paralysis, but that if it did heal, I would have a better chance of being active again in the future. I immediately called Shannon when I got home and she started coming 3-4 times a week to work on my back. I did not tell the surgeon this, knowing they would most likely tell me "NO"! After one week of Magna Wave PEMF treatments,  I was able to go off ALL of my pain medication!! Each doctor appointment the surgeon could not believe how fast the bone was healing. After 6 weeks I was told we were out of the woods and no surgery would be needed.
I started going on walks in my brace, light arm exercises, and doing leg exercises in the pool with no pain. Each appointment they could not explain how fast I was healing. After only four months I was able to get rid of the brace, and completely astonished the doctor by not needing any physical therapy and was already, that day, able to touch my toes!!! They were literally speechless. Originally I was told I would not ride horses again, run, be able to carry a baby to full term, or be able to live pain free. I left that appointment and went straight to the barn, riding (lightly) with NO pain what so ever!! Then after four weeks I was able to run a full mile on the treadmill and was back to lifting weights!! My back brace was taken off the middle of October, in December we found out we were expecting. I carried my baby boy to full term with absolutely NO back issues. Today I am in even better shape than I was before the accident, riding, showing, lifting weights, and chasing after a very active toddler. I am a firm believer that this is ALL because of the MAGNA WAVE PEMF!!! Thank you Shannon!!!
– Haley