Clinical Trials, Approvals & Safety
Currently, our machines are engaged in three clinical trials in the United States. These studies are for submission to the FDA for U.S. FDA clearance, and for adding human use approval in other countries.
To our knowledge, PEMF Systems Inc is the only manufacturer conducting clinical trials in the USA to demonstrate the health benefits and safety of our product. Magna Wave offers the longest most comprehensive warranty available, we also stand behind our PEMF equipment use and safety.
Currently, PEMF Solutions products are not regulated under the FDA. They are to be used as massage like instruments, there is no medical benefit claim currently assigned to their use. In general, PEMF is designed to support overall health and well-being in humans and animals.
In other countries, PEMF has been a mainstream therapy for over 30 years. There have been over 2800 clinical trials completed using many different PEMF devices in many different countries, all with positive results. Our devices are CE (Human) approved in Europe and 127 other countries.
Magna Wave Inc offers full training and certification with third-party testing for their PEMF devices. Training is included for humans, small animals, and equine use. All practitioners are required to accept and abide by the Magna Wave terms and conditions for acceptable practice and usage of the devices. Magna Wave is also working to obtain full accreditation for individual state licensure. We also work with Insurance companies who recognize our training and will ensure our practitioners to treat humans, horse, and small animals.
"I've just had my 3rd treatment with the Magna Wave, and I'm totally impressed with this machine."

– Mary Ann Graham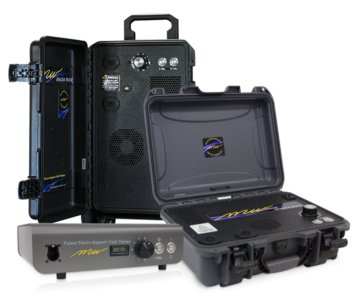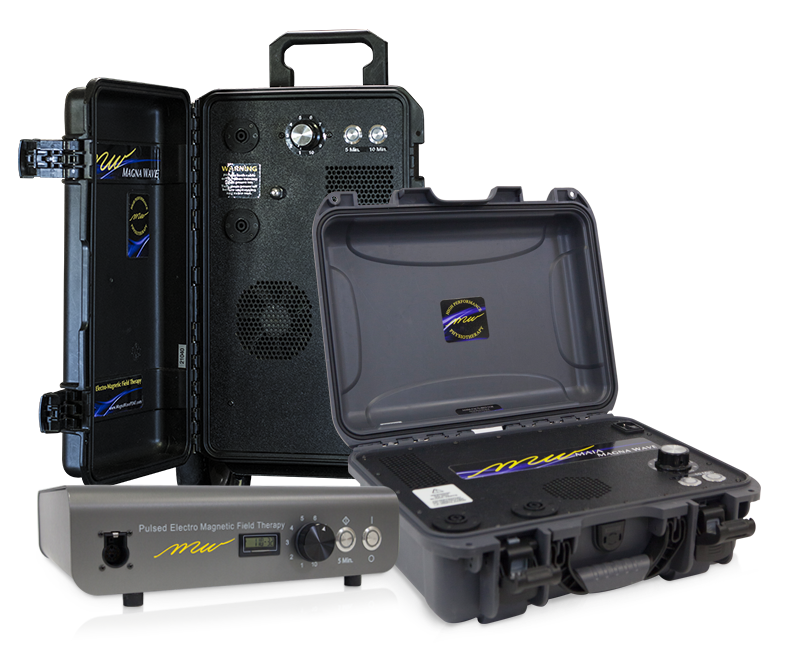 Our current PEMF clinical trials are:
1. Myalgia and Arthralgia of the knee (Arthritis) Miller School of Medicine at University of Miami
2. Pressure wound healing (bed sores) Veterans Administration Hospital, Long Beach, CA
3. Venous wound healing Henry Ford Hospital, Detroit, MI
Magna Wave PEMF Cuba study
Published in the SPANISH JOURNAL OF OZONE THERAPY
About two years ago we were able to get a PEMF office unit into Cuba. The MD, who headed the study, is a neurosurgeon (Dr. Vivian Borroto) and an official of the Ozone Society there.
Worldwide clinical studies done in Cuba are extremely highly regarded. Two studies were completed, one for knee pain, and one for low back pain, which is completed publishing pending.
Study overview; 90 patients with knee pain "resistant to medical treatment" with more than five years of having the diagnosis of osteoarthritis of the knee and 60+ years of age was divided into three groups A. NSAIDS (normal pain meds) B. PEMF and ozone injections (the latest ozone therapy).
C. PEMF 10 sessions each only 6 minutes
Groups B and C had NO "side-affects", unlike group A, NSAIDS, which experienced gastrointestinal problems and elevated blood pressure.
"Study results for Magna Wave PEMF were found to decrease pain, stiffness and improve the quality of life in patients with knee osteoarthritis."
Pain reduction
A. NSAIDS Pills had a 31% reduction
B. Magna Wave PEMF and Ozone 69% reduction
C. Magna Wave PEMF alone 55% reduction
Joint stiffness
A.NSAIDS 26% improvement
B. Magna Wave PEMF Ozone 85% improvement
C. Magna Wave PEMF 56% improvement
The second PEMF study involved 160 patients with lumbar pain. Magna Wave PEMF use showed an 82% decrease in pain.
"I had nerve damage, pinched nerves and the famous carpool tunnel. Emily came and did treatments in the top and bottom of my hand. Within about an hour I could make a fist, bend my fingers freely and move a wrist better. No pain meds still since she came 11 hours ago and I'm a huge baby about any pain. Well worth it!"

– Heather Tavallali/ Emily Humerickhouse CMWP